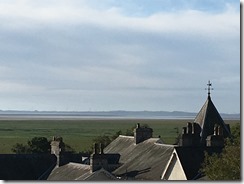 Last weekend I was on the Cumbrian coast speaking at St.John's/Claytonbrook Whittle-le-Woods Church Weekend. It was a joy to spend time with a warm hearted group who had the additional benefit, being from Lancashire, of speaking properly. And I loved returning to my favourite theme for a church weekend- Union with Christ.
Now it appears that I have already written fifteen blogs that are tagged with "Union with Christ". But in preparation for the weekend I read a new book on the theme by Rankin Wilbourne. It is excellent- I would agree with Tim Keller's commendation on the front cover. And it set off three new reflections for me on understanding the centrality of union with Christ as a biblical theme.
The Importance of the Imagination
Teaching the reality that I am in Christ and He is in me always feels like a bit of a risky business for a whole weekend. It can feel abstract. More than one person (although not this weekend) has said to me that they just don't get it. Part of the issue here is that it is a hidden reality (Colossians 3:3). Only when Christ appears will our close proximity to Him be revealed (Colossians 3:4).
So how do we hold on to this unseen reality in the meantime? Wilbourne makes much of the fact that the New Testament tends to teach it through imagery- vine and branches, head and body or marriage being prime examples. I had fun this weekend with the image of being clothed with Christ from Galatians 3. Wilbourne argues that such images are intended to be a spur to our imagination, using Paul's talk of the eyes of our hearts being a reference to our imagination. We are to have in our mind a picture of Jesus as a head and us as a body or to think of ourselves surrounded by Jesus as though by clothing. This matters. I teach this material often but I need to labour to get the picture in my head each day- otherwise the wonder of it will be lost.
From my own experience of teaching this, there is one phrase that seems to stick in people's memories- and it was the thing most commented on this weekend as well. Picking up what it means for Christ to be in us I tend to speak about the baby in a womb. The question the pregnant mother asks each day is- "What are the baby and I going to do together today?" And the question the Christian asks is "What are Jesus and I going to do together today?" Union with Christ means we are not going to be doing anything apart. The point is clear- for this doctrine to live, we need a variety of pictures in our imagination.
Grace and Demand
Wilbourne notes that Christians often yo-yo erratically between remembering that everything is of grace and also that we are called to obedience. Sometimes that can feel a hard circle to square. We are tempted to water down either half of that equation. Yet the reality, as Wilbourne observes, is that in union with Christ these two things are wonderfully brought together.
The fact that I am clothed with Christ, that I am in Him means my standing before God is entirely dependent on the merits of Jesus and not at all on anything I have done. As 2 Corinthians 5 tells us- in Christ we become the righteousness of God despite our own personal unworthiness. I do not need to work to gain life or approval from God. I have life and approval simply by being united to His Son. The call is simply to believe that is the case.
But if I am in Christ and Christ is in me that will inevitably change my conduct. The one who modelled and spoke of radical discipleship is within me so I will need to live that (or indeed Him) out in sacrificial, suffering service.
I don't need to oscillate between grace and demand. I simply need to hold on to the fact that I am united with Christ. Perhaps one helpful way of thinking this through is to pick up what it means to be "in Christ" and for Christ to be in us. The first speaks of the fact that sin is not counted against me because I am clothed in righteousness. The second speaks of a new power over sin because all the power of Christ is at work within me. One of the highlights for me this weekend was somebody saying to me that they suddenly knew a fresh desire and strength to fight sin as a result of meditating on this theme in God's Word. That is the wonder of union with Christ.
Union and Communion
One of the illustrations that I often use when teaching this truth is that of a student asking me to pray for them that they would get closer to God. My slightly smug response was "I'll pray that you realise that you are already as close to Him as you can get for you are in Him and He is in you." Now that is true. However, it can be irritating to the person who is struggling with God feeling distant. What do you do with that?
The answer is to notice the difference between union and communion. I am joined to Jesus. But I will need to labour to feel that and consciously to draw near to God. Wilbourne quotes Calvin: "Let us therefore labour more to feel Christ in us." Whilst sin will not at all damage my union with Christ it will impact my sense of communion because the Spirit of Christ has been grieved. Likewise time away from the Word and prayer will hinder my sense of nearness to God.
However, holding on to the reality of being united with Christ does stop the sense of me constantly going back and forth in my relationship with God. The Christian needs to say "I am united with Christ. Therefore I am going to press into experientially enjoying the relationship with God that is my right in Christ. I am going to draw near to Him."
Conclusion
Teaching this theme afresh and reading Wilbourne's book confirmed for me the words of John Owen: "Union with Christ is the greatest, most honourable and glorious of all graces that we are made partakers of." The words of Jesus remain wondrous- "I am in my Father, and you are in me and I am in you." (John 14:20)