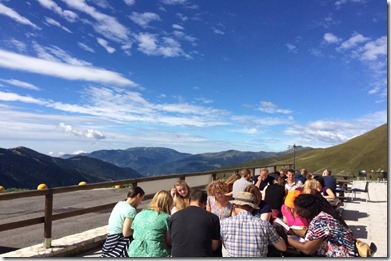 Last Monday evening saw me 1800m above sea level in a hotel on top of an Alpine mountain speaking at the final of sixteen sessions on Oak Hall's Alpine Bible School. Truth be told I was feeling somewhat emotional as before the talk I said this- "To teach the Word of God to those hungry for it is one of the greatest privileges in the world."
At one level, it can sometimes feel crazy to use annual leave to go away and speak lots- though virtually all Christian camps rely on Christians using their annual leave in a similar way. But it really was a great time. The scenery was beautiful, the group of people there were terrific and we had a lot of fun- a fair amount of which was at my expense. The publicity for the Alpine Bible School contained descriptions of my alleged ability as a speaker and it was amusing (I think!) to be subject to a group discussion at the airport on the way back as to how accurate everybody thought it was- "Wouldn't '"Andy's speaking is bearable" be more accurate?!"
But the greatest joy was to preach to and co-ordinate some interactive sessions amongst a group so eager for God's Word. We spent our week in the three minor prophets written after Israel's return from the exile- Haggai, Zechariah and Malachi. The first two of these books I have recently preached through at church and my intention is to handle the last of these in the run up to Christmas. So I thought it would be a useful reminder (or something to whet the appetite in the case of Malachi) for us as a church if I reflected on the four main lessons that struck me- across a couple of posts. This isn't a summary of the prophets but is simply picking up those aspects that seemed to be me of most pastoral relevance.
We need to learn to reflect more
Perhaps the greatest challenge of the prophets (as a whole not just these three) comes from the fact that they are delivered to a people who they think they are doing fine. Some form of worship of God is going on and, therefore, the people think that they must be pleasing God. However, God's perspective is the precise opposite. That's why in Malachi you have the repeated idea of God critiquing the people's worship and their response is essentially to query what on earth the problem is. This gap between the people's view and God's view is not simply an Old Testament phenomenon- it is very evident in Jesus' letters to the churches in Revelation. There can scarcely be a more chilling verse in Scripture that Jesus' indictment of the church in Sardis- "You have a reputation of being alive but you are dead."
How do we avoid this position? I was struck by the repeated refrain in Haggai- "Give careful thought to your ways," It is clear from the prophets that God is after whole heartedness rather than a token offering of worship. However it is easy for Christians to drift on this- often over time rather than in a big bang. Once you were passionate about God and now you are passionate about carpets (or equivalent!). That's why we need to reflect on our ways.
Maybe reading this is an invitation to reflect. As we reflect the question we need to ask is this- "Does living half heartedly towards God in an attempt to preserve my comfort actually offer me the satisfaction I am seeking?" Haggai will tell me that the answer is no. Though it feels counter-intuitive at times the best way to live is to be wholehearted in working for the honour of God for this is the path to God's blessing. It might be helpful for us to consider this and see whether there are changes to be made perhaps in terms of time and money.
There is a scroll of remembrance
It so happened that early in the week I had to touch on issues to do with marriage, divorce and the biblical requirement for Christians only to marry Christians (well once I had corrected my slip of the tongue that Christians must only marry non-Christians). There's no way you can avoid that one if you teach Malachi 2. Nobody in the group queried that at all. But I was moved as I listened to a number of people, especially women, who had made significant emotional sacrifices in order to please the Lord in that area. Christians make sacrifices in different ways but two areas are sometimes worth noting- those who end up single and those who persevere in difficult marriages (and I am aware there are a load of pastoral questions here for another time) out of loyalty to the Lord.
All of that reminded me of the importance of Malachi 3:16- "A scroll of remembrance was written in his presence concerning those who feared the LORD and honoured his name." In the midst of emotional pain the Christian will often ask whether it is worth the sacrifice. To which we must answer- God sees and He will not forget. One day there is a "Well done good and faithful servant" and the joy to receive that will trump anything this world can offer.
I suspect that I have been too slow to offer that pastorally in the past. Perhaps I've thought it wrong to make too much of the sacrifices we make. But God intends this to be an encouragement to a people who are willing to stand against the grain of their culture. So it is a word we need to speak to each other.
I'll write up the two remaining lessons next week but overall the time in the minor prophets was an encouragement to be wholehearted in our service of God knowing that the Lord sees and will remember.