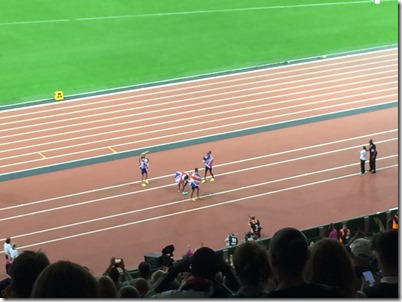 If people know two things about me they probably know that I am a Christian and that I have always been a bit of a sport obsessive. Scarcely a putt can be holed, a try scored, a race won or a wicket taken without me being interested in it. So I was struck by a sentence in one of the books I read during my sabbatical. Published in 1993, Letters Along the Way features an imaginary correspondence covering a range of issues between a figure who is an amalgamation of Don Carson and John Woodbridge and a younger Christian. Here is the relevant sentence: "Not a few preachers roundly condemn alcohol, drugs, lust, Communists and secular humanists but never say anything about materialism, greed, pride, violence, prayerlessness, biblical illiteracy, self-centredness or the idolatry of sport." Later on in the correspondence the Carson/Woodbridge figure is seen to repent of a decision to cancel an evening service so that people could watch the Superbowl- "My interests in sport had pushed aside my commitment to Christian ministry." These comments took me back to hearing Carson preach once on Nehemiah 1 where Nehemiah is moved to passionate prayer because of the state of God's city. In his closing prayer, Carson said this- "Father, forgive us for the times when we care more about the results of cricket matches than we do the glory and honour of Your name."
I can't deny that sport has given me many happy memories. My parents and I managed a couple of visits to the Olympic Park during the 2012 Games (hockey and handball!) and they were fantastic times. Perhaps in a desire to recapture that we went slightly mad on athletics tickets for the recent World Championships. It meant that we were in the stadium when Britain won the gold in the 4x100m relay (pictured above!). I have never known a noise like it. It was a massive thrill to be there: I will remember it for years. Seeing how fast human beings can run with the bodies given by God is a wonderful thing. Sport seems to me part of what God gives us in creation for our enjoyment (1 Timothy 6:17).
And yet in the end sport can be an idol. I suspect it is for many human beings in our country- the thrill of weekend sport is what they live for after the drudgery of the week at work. Indeed one batsmen I gave out LBW in a cricket match that I umpired did note that I had ruined his week. But like all idols it is deficient.
In his speech at the Opening Ceremony of the London Olympics, Lord Coe observed that "there is a truth to sport, a purity…". Of course, the irony is that purity is precisely what there isn't in modern sport. I was also in the stadium on the Saturday prior to the relay triumph and left feeling gutted following the men's 100m. It wasn't just that Usain Bolt lost when we had hoped to see a great climax to his career. It was that the winner was Justin Gatlin, a twice convicted drug cheat. Frankly I was angry. My voice was contained within the chorus of boos that greeted his triumph. I put something utterly sanctimonious on Facebook shortly afterwards. The problem was that the result meant that the mirage of the purity of sport was revealed for the chimera that it was. It made me question all the other performances that I was seeing- were they genuine?. But, of course, it shouldn't have needed that evening to remind me that sport was flawed. Suspicions of match fixing are not far from many sports. Uneven distribution of wealth means there are very few sporting events that take place on a level playing field. And those of us who have loved British Olympic success do need to recognise that it has been built on poor people with inadequate resources playing the lottery.
I love sport- but it is too broken to be the thing for which you live. It so happened that across the week of the athletics championships I was reading Duncan Hamilton's gripping biography of Eric Liddell- For the Glory. The early years of Liddell's life are portrayed (somewhat inaccurately!) in the film Chariots of Fire. He pulls out of the 100m- his preferred event- because the heats take place on a Sunday. His reasoning is clear- "Each one comes to the crossroads at some period of his life and must take his decision for or against his Master." He went on to win the 400m gold- an event for which he had scarcely trained. Amazingly you can see that here. But Hamilton's account notes that this triumph became the backdrop to a sacrifice greater even that his decision not to run the 100m. Faced with heroism in his native Scotland, opportunities of great wealth and prestige and the likelihood that he would have further success in future Olympic Games, he gave it all up to become a missionary in China. It was a decision that would lead to deprivation, danger (several times he would be robbed and attacked by pirates and bandits) and death at the age of 43 in a Japanese prisoner of war camp far from his family and the daughter that he never got to see. It also resulted in people becoming Christians. Why did he make the decision? "I believe God made me for China." Eric Liddell knew the joy of sport but also the place to put sport in one's priorities.
For most of us the idolatry of sport will not be an issue. There will be another challenge instead. But for those of us for whom sport is a massive thing- enjoy it but don't have unrealistic expectations of it. Above all else, remember that the Master comes first because He alone really is pure.