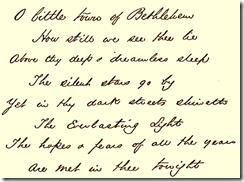 "It's Christmas, we'll sing any old nonsense," is a flippant comment that I recall passing my lips a few years back. Indeed there are some notorious lines in carols that we often sing. "The little Lord Jesus no crying he makes," may not be the best line ever written to describe the full humanity of Jesus. (Unless, I suppose, crying as a baby when you are hungry and tired is a sign of sin. Discuss.) I also have a cherished memory of a now retired and semi-deaf elder responding to the prospect of eternity in Once in Royal David's City being waiting around in white with the loudest stage whisper ever- "I shouldn't think so quite frankly." Whilst on that carol it may be worth noting that Jesus comes primarily as a Saviour rather than as an example to Christian children. If it were the latter you would probably expect the New Testament to tell us more about his willingness to tidy his bedroom and so on. Let's also admit various carols do have in their re-telling of the Christmas story a certain Anglocentric approach to climate. And no Protestant should ever sing Ding Dong Merrily on High except with a profound sense of irony.
But having got all that off my chest I have been struck afresh by some glorious lines in our Christmas carols that beautifully express the wonder of the incarnation. In some ways because they are so familiar we can bash them out without thinking. So let me give you some of my favourite lines in the hope that it will stir some Christmas joy in you.
The Wonder that God Becomes Man
I've always loved the second verse of O Come all ye Faithful. Using archaic language we are called to behold with astonishment that the one who is fully divine should not resist the call to become a tiny, vulnerable embryo:
"God of God, Light of Light, Lo! He abhors not the virgin's womb"
Or in another carol we are called to look with astonishment:
"Lo, within a manger lies, He who built the starry skies."
Or perhaps, as so often, Charles Wesley puts it best. The Christ who is adores in heaven becomes the offspring of a virgin womb:
"Veiled in flesh the Godhead see! Hail the Incarnate Deity!"
It is an act of such grace that the Eternal One should be "pleased as man with man to dwell".
It was a full humanity that Jesus entered into. Much better than "no crying he makes" is Once in Royal's description of Jesus' life and the difference it makes to us:
"He was little, weak and helpless; Tears and smiles like us he knew; And He feeleth for our sadness, And He shareth in our gladness."
We shall see Him but in Heaven
Lots of the carols work through the Christmas story- sometimes at great length. But others work through the life of God the Son- before the Incarnation, His life on earth and then His eternal glory. It was only in preparing for this that I realised that some of the best descriptions around of final glory are found in carols. Isn't the final verse of As with Gladness a wonderful picture of how the star of Bethlehem points forward to the eternal glory of Jesus?
"In the heavenly country bright, Need they no created light, Thou its light, its joy, its crown, Thou its sun which goes not down; There for ever may we sing Hallelujahs to our King."
The event that humanity needs
Nothing brings out the sheer import of that night in Bethlehem better than this line:
"The hopes and fears of all the years are met in thee tonight."
The coming of the Lord Jesus is the answer to all human longings as the God who alone gives meaning to life becomes knowable. And it is the solution to all of humanity's greatest fears of sin, death and hell. What a difference that night in Bethlehem makes.
But it is also necessary that humanity pays attention to the good news of the angels that Christ has been born. In a week marked by the hideous news from Aleppo one of the verses from It came upon the midnight clear has particular pathos:
"Yet with the woes of sin and strife, The world has suffered long; Beneath the angels' strain have rolled, Two thousand years of wrong; And man at war with man hears not, The love-song which they bring: O hush the noise, ye men of strife, And hear the angels sing."
The appropriate response
Perhaps it is the third verse of Hark! The Herald that brings out the accomplishments of Christ's incarnation most clearly:
"Mild He lays His glory by, Born that man no more may die, Born to raise the sons of earth, Born to give them second birth."
So how do we respond? You have to plough through a lot of The First Nowell to get there but the final verse gets it right:
"Then let us all with one accord, Sing praises to our heavenly Lord, That hath made heaven and earth of nought, And with His blood mankind hath bought."
Alternatively I have always appreciated a verse added later to O Come all ye Faithful that we scarcely ever sing:
"Child for us sinners, Poor and in the manger, We would embrace Thee with love and awe, Who would not love Thee, Loving us so dearly? O Come let us adore Him…Christ the Lord."
The last verse of O Little Town is a prayer that we might receive the benefits of all that Jesus' birth, life, death and resurrection accomplished:
"O holy child of Bethlehem; Descend to us, we pray; Cast out our sin and enter in; Be born in us today. We hear the Christmas angels, The great glad tidings tell; O come to us, abide with us, Our Lord Immanuel."
Perhaps these carols are over familiar. But, despite the odd duff line, they do portray the sheer wonder that God should become man. So- this Christmas- may we truly adore Christ the Lord.