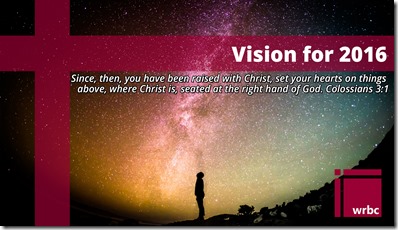 As well as building up to Christmas this is the time of the year when we nostalgically look back on the past twelve months. We had our staff team Christmas lunch a couple of weeks back and reflected back on the past year. I came up with some highlights such as baptisms whilst my colleagues trotted out all the daft things that I said from the front over the past year. There were quite a few. Enquiring of somebody mid-notices whether their wedding was still going ahead (mercifully it was!) appeared to be the favourite.
More seriously I think it is helpful to look back on some of the teaching we have heard. James warns us of the danger of listening to God's Word and then forgetting it so consciously to consider the biblical ground we have covered at the end of the year must be valuable.
In terms of my own preaching my main focus this year has been the last three books of the Old Testament. I have written a couple of posts on that experience here. But I wanted also to look back on our vision verse for the year. Each year as a church we have a verse for the year that acts as a springboard for preaching in January and over the summer period. This year we took Colossians 3:1:
"Since, then, you have been raised with Christ, set your hearts on things above, where Christ is, seated at the right hand of God."
What difference should a year focusing on that verse make to us?
1. We should see ourselves differently
"Since you have been raised with Christ." It is fair to say that I have taught on union with Christ a lot over the years. However, that is because it is such a central New Testament doctrine and one that is vital for Christian living. Imagine two Christians facing temptation. One has no sense of being raised with Christ. They feel tired, stressed and lonely. Temptation feels powerful and attractive. Consequently they sin. Alternatively, imagine a Christian who is saying "Christ is in me. I have new life with him. I am lifted up to heaven with him far above hostile principalities and powers." Suddenly it is not so inevitable that they will give in to temptation. There is a new power for love and sacrificial service. That is why most calls to obedience in the New Testament are predicated on Jesus and me being locked together. I can crush sin under my feet only because I have been raised up above it by Christ.
It does need faith to believe this though. A couple of verses later Paul talks about us being hidden with Christ. I used to think this simply referred again to our closeness to Him. It does include that but it is more than that. Our union with Christ is currently a hidden or an invisible reality. Only when Christ appears will our invisible identity become plain.
That's why each day there will be an important fight of faith- to believe that, though I cannot see it, I am united with Christ. And it would be a good thing if, at the end of this year where Colossians 3:1 has been around the church, I saw myself differently- as one who is raised with Christ.
2. We should see Jesus differently
Perhaps the new thing for me this year has been reflecting more on this question- "What is Jesus doing now?" The New Testament (especially in Ephesians 2) pictures us being raised up to heaven with Christ. Since we are there it is worth having a look round. What do we see? We see Christ doing a range of things. Here are four:
– He is currently preparing a place for us. Or perhaps you could say that He is getting the wedding ready. That might make Him the only bridegroom in history who does the bulk of the work in preparation for the wedding day!
– He is opening the seals of history. Preaching Revelation 5 was probably my highlight sermon of the year. It is of massive comfort in the midst of the confusion of the world that the unfolding of history is in the hands of the Crucified One.
– He is reigning. That's the great promise of the end of Ephesians 1. At the very moment when I am tempted to feel weak I am joined to the One who is the head over every power and authority in heaven.
– He is acting as my priest- the image we saw in several sermons in Hebrews. He stands between us and our Father. His presence before the Father is the guarantee of our continual acceptance in heaven. When I am aware of guilt and the accusations of Satan I consciously need to look at what Christ is doing in heaven for me now. In addition, as my priest, He looks down on me with sympathy. In Thomas Goodwin's words when we face trials, anguish and temptation He is "remembering the like in Himself."
One of the problems for me is that I have a tendency to think about Jesus in a vague way. Perhaps we need to ask ourselves in particular moments- what aspect of what Jesus is doing now is the answer to this challenge? Maybe I feel pessimistic about my future and then I remember right now that Christ is preparing a glorious future now. Or I feel guilty and I remember that my place in heaven depends completely on my priest and not on me. Or I am confused as to how life is working out and I recall that the workings of history are in the hands of the One who died for me.
In other words, I hope at the end of this year we will think more about what Jesus is now doing in heaven in a solid, concrete manner. For that to happen we need to recall the third lesson.
3. We should fix our hearts and minds on things above
As I look back on the last year I can genuinely see my life in a sort of binary way. There are times of grouchiness and weariness when I suspect I was not the easiest friend, colleague or pastor. Then there are other times when there was still a lot to do but it was done with a sense of joy and privilege. What is the difference between these two times? To be frank it was the extent to which I was obeying the command to "Set my heart on things above" or whether I was obsessed with earthly things such as TO DO lists.
It is easy to understand why setting our hearts and minds on heavenly things or earthly things should make this difference. When the mind is set on earthly things then it is simply me on my own against the circumstances of life. However, when the mind is set on heavenly things then it is about facing life in the company of my Bridegroom-Priest-King. That is much better. I know there are challenges in terms of time. But, of course, the irony becomes that in setting our mind on heavenly things we are empowered to do much more of benefit and joy here on earth.
Mike Reeves in his book Christ our Life makes this point: "There seems to be a worrying hole in modern Christianity. Our helter-skelter lives keep our eyes down and away from Christ." That is almost certainly true. And so my hope is that for us at Woody Road this year's vision verse will make a lasting difference. As we go into 2017 may we be those who consciously take the time to recognise that we have been raised up to heaven with Christ and enjoy what we see of His work there. Only if we set our hearts and minds there will we find the power to live differently.