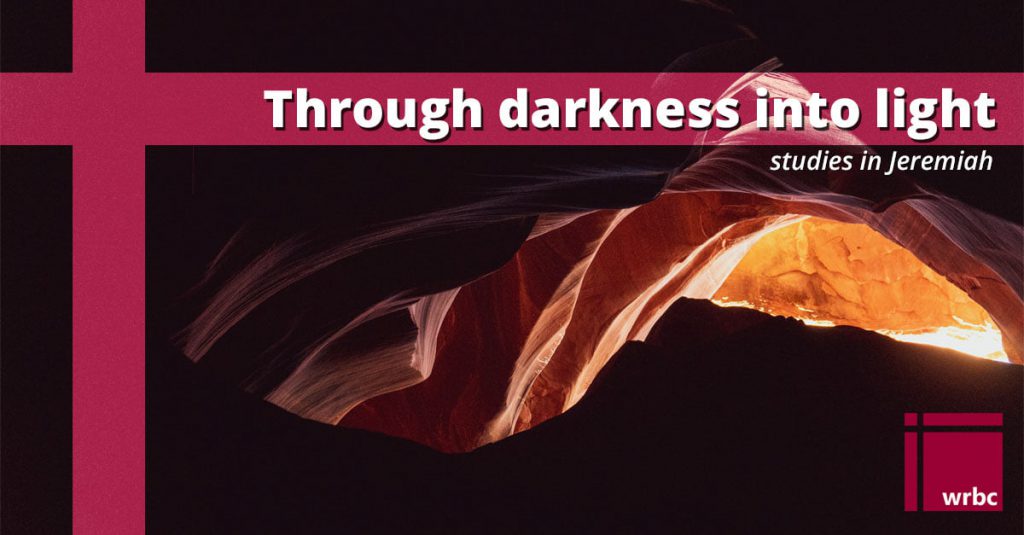 I spent a fair chunk of February and early March announcing that disaster was on the way. This wasn't special insight- the pandemic was as much of a suprise to me as the next person. But in the early part of the year as a church we considered the first few chapters of Jeremiah- looking at God's warnings to His people that their idolatry would result in them being sent into exile. The result was that the last verse that I preached before lockdown was "Why did I ever come out of the womb to see trouble and sorrow…?" (Jer 20:18)
When lockdown hit I decided to switch what we were doing (you can listen to the series "Living in a Pandemic" here.) But this weekend we are returning to pre-lockdown days in certain respects. I am delighted that our youth work resumes in person (albeit at social distance) on Friday night. The children will have a special group on a Sunday morning. And it feels like the right time to return to Jeremiah, especially as we had left him in a state of misery! The plan (God willing- that statement feels particularly true this year!) is to complete the book by the end of November.
But that inevitably raises the question. Why spend time studying the ancient history of Israel from roughly 2600 years ago? Can that possibly be relevant to 21st century life? Here are my three hopes for our studies.
The weeping prophet
What first drew me to Jeremiah was the character of the prophet himself. He proclaims a message that nobody wants to hear- and pays the psychological cost of that. It is what we saw in the last passage we considered- chapter 20. In this Jeremiah clearly points forward to Jesus- the one who weeps over Jerusalem even as His Word is ignored. But it is also legitimate to apply Jeremiah's life to our own- for the Spirit makes all God's people prophets according to Acts 2. Often the reality for us as Christians today is to be speaking and living in a way that most people reject. How do we persevere in that- when at times it is just hard? And how do we keep engaging with compassion? There is more for us to see in the remainder of Jeremiah's prophecy.
The complacent people
One of the more technical questions you have to face when you preach Jeremiah is this- where are we? Should we resonate with Jeremiah? Or are we the people he is warning? And my answer is that we could be either. The New Testament tells us that the tragedies that befell God's Old Testament people are written as warnings for us. The words of Jesus to the churches in Revelation 2-3 remind us that the Lord still disciplines those He loves. So as we see the rebukes delivered to Israel we will, at the very least, have to ask if the Lord has things to say to us. That won't always be comfortable. But Jeremiah will teach us that it is much more healthier for us to hear those challenges than live in ignorance of our situation. Perhaps lockdown has made us spiritually complacent. My prayer is that the Lord may use the remainder of Jeremiah to wake us up to a sense of reality where necessary.
Reasons for hope
The main thing, though, that I trust we will sense from the second half of Jeremiah is hope. It is the glory of the Christian message that God showing us our sin is never the final word. It wasn't for God's Old Testament people and it isn't today. At least half of the sermons will have hope as the main theme- hope of a wonderful agreement between God and people, hope that God will prosper His people and give them a future, hope of a future home and this Sunday our focus will be the hope of a righteous leader in a world marked by lies. And perhaps that is what many of us need at the moment.
So do join us. If you want to listen to the first half of the series to catch up with what you missed/forgotten you can find them here and here. If you are new to Oxford you would be very welcome- you can get a feel for the church through this video. Because of social distancing, if you are planning to join us physically please do book in advance. And if you can't join us in person you can watch the service on our YouTube channel– either live or subsequently.
Let's look forward with the expectancy that the Lord will speak to us and meet with us in the weeks ahead.